Portraiture
I believe portraiture creates a spiritual link between the person or subject and the Artist. I enjoy each moment I spend studying who or whatever I am painting. It is my personal challenge to go beyond capturing the person's likeness to feel the substance of the subjects being and capture the beautiful light and colors that make them who they are…
Thank you for being here. I hope my paintings inspire you to call me to add a pastel or oil painting to your walls of someone you love or something, like a well loved animal friend…….They are my specialty! There are a few pages to view in my website, select a subject and click on it to reveal a new page of paintings. I wish you well.
Interested in having your portrait painted?
Animals
A painting can capture the prosperity of your favorite animal in its native habitat. I can make a lasting tribute in oil – something for you to cherish for a long time of your favorite feline or canine. It has also been a dream of mine to work cooperatively with a Zoo or Wildlife Sanctuary to encourage the prosperity of it occupants.
To paint premier zoo animal's portrait to benefit a Zoo or Wildlife Sanctuary to help fund their well being would give me great pleasure! Hopefully, that day will come.
Still Lifes
There is nothing that sends me into "the zone" faster than a wonderful subject in Still Life and a long block of time. The peace and tranquility of the moment is captured on canvas. An object caught in time and the subtle influences of one object onto another reminds us that we are not alone.
Spiritual
My life challenges and our World's challenges have affected me in a very profound way. I feel very fortunate to be able to express them in my favorite medium – oil.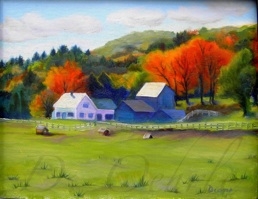 To be out painting with a group of like minded friends or by myself, the act of painting is a loving way to commune with the earth. You are out in it, experiencing the sun, wind and sometimes the tide making its way onto your feet!
Landscapes
A home doesn't necessarily need to be near my Studio in Narragansett, Rhode Island to be captured in oil during your favorite season. A quality photo with a well established source of light will give me the right information…For many years my home in Block Island, RI gave me many opportunities to paint dramatic subjects by the ocean.
Old Masters
When working from a favorite Old Masters image I am taken out of my comfort zone and challenged to recreate the original painter's techniques and intentions. It forces me to hold my brush in a different way or layer color in a way that I haven't before. It also pushes me to create in a different palette or in a higher or lower key than I usually would paint.
Whether I copy any of my favorites…a Renoir, Degas, Sargent or Vermeer, they all have something to share and I may not understand the message until I am well underway in my experience!
Flowers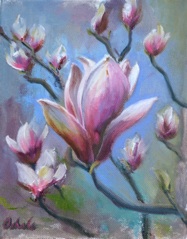 As a horticulturist, I am surprised – as you might be – that I have not painted more flowers. This will by my New Year's Resolution for the coming year. Petals to me are similar to hair, feathers, fins and fur creating the unique texture with the use of vibrant color of the oil medium, brush or pastel to express the correct depth, form and gesture. With a well load brush, magic happens!
Biography
The memory of Diane's first art class was when she was living in the Philippine Islands at the age of 7. The focus, concentration, and thrill of following the jagged mountain horizon-line with her mind and hand is still very clear many years later – a thrill she still feels today.
My journey of expressing my art has ventured from tight realism to colorful realistic expressionism.

With each new subject I challenge myself to limit the brush strokes when using rich, colorful, professional grade oil. This technique allows the medium and the viewer's eye to make the interpretation resulting in a fresh, colorful synergy of mediums. I am looking forward to many more wonderful painting experiences

I invite you to come and join me painting or whatever medium you choose!